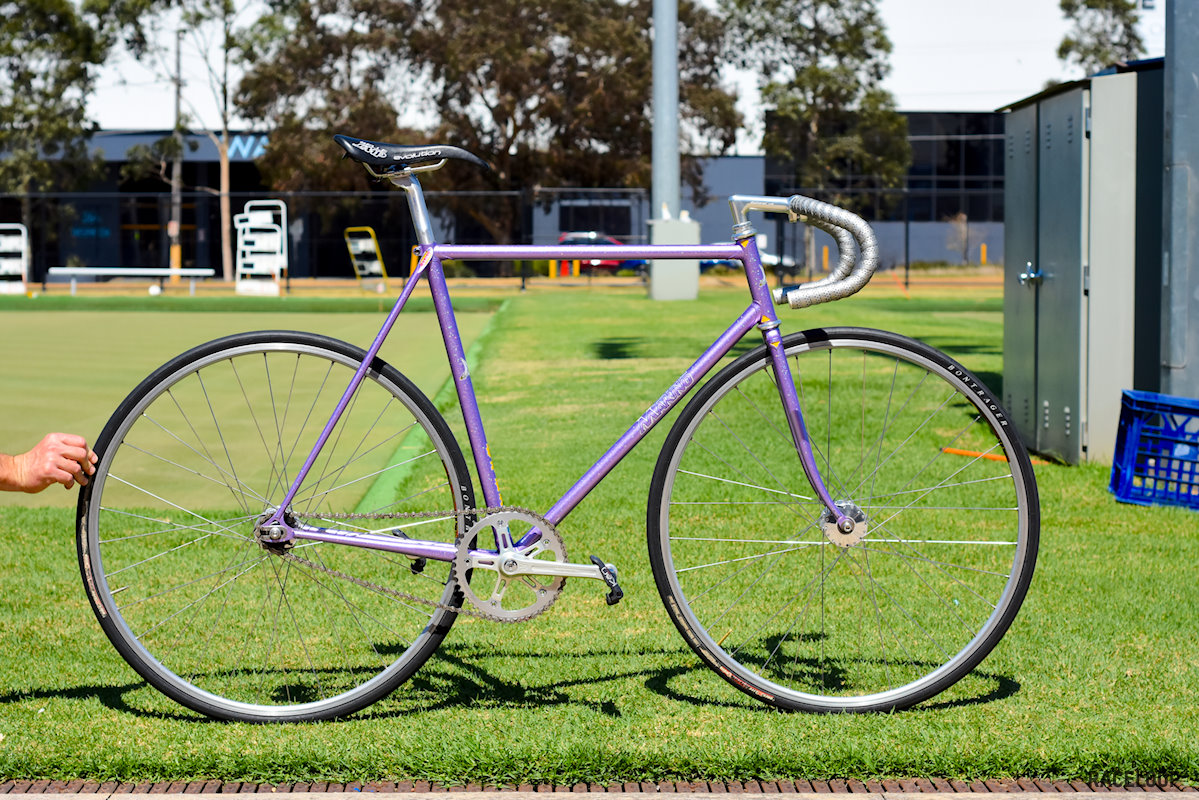 I stumbled upon Simon's gorgeous Makino NJS at DISC the other day so I thought it would be worth sharing it. This is the bike he races and trains on so it's in the condition you'd find it in on a Tuesday morning at DISC – that's why I liked what I saw. It's a practical, beautiful, working bike. It's not a living room showpiece and that's what makes it special.
This bike was built up slowly, over a few months, from a mixture of components Simon already had laying around and a few he had to source. In its current incarnation the frame is built with: Hatta headset and bottom bracket, Nitto. Pearl stem, Nitto bars, Sugino Super Mighty cranks, Dura Ace aero seatpost, Izumi chain, Selle SMP saddle (Until he finds a suitable Kashimax or Turbo).
The builder of this frame, Masahiko Makino was the chief frame builder at 3rensho and has worked on many frames for Japan's top cyclists. After leaving 3Rensho (which is now defunct) he started his own brand called "Makino". With his three staff members, he continues to make Japan's top frames which enjoy strong support by many top racers. Makino has a reputation for producing more elaborate, original lugs that fit elegantly into the frame. During the Atlanta Olympic Games, a Japanese keirin racer won a gold in the 1000m TT on a 3Rensho, built by Makino himself.
The beauty is in its simplicity. This Makino NJS is a tight, all steel, racing machine. Notice how close the front wheel is to the down tube? That's classic NJS geometry. Sharp, precise and built for the experienced rider. You know that in ten years time, this frame is going to be just as worthy as what it is today.
First, some words about the NJS standard. The mark is owned by the Japanese Keirin Association (Nihon Jitensha Shinkōkai or NJS for short) and its requirements were established in 1957 to prevent any Keirin racer from having equipment-related advantages. A common misconception regarding the certification is that it is a mark of quality, when in fact it is simply a mark of standardisation. In addition to being a mark of the standard, a main objective is to support the Japanese cycling industry. As such its bureaucracy is notoriously critical of foreign manufacturers attempting to enter the Japanese market. (Campagnolo is one such foreign manufacturer.)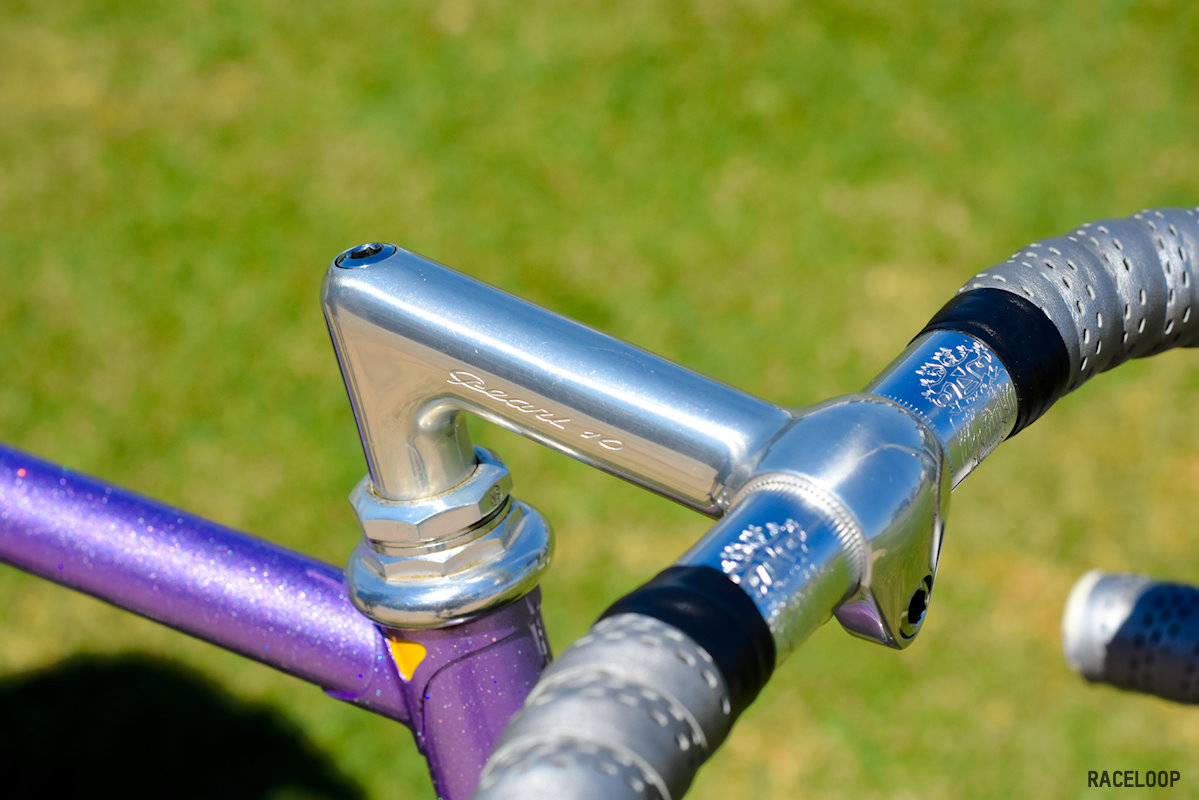 The Nitto Pearl stem and bars are a classic design with flawless quality and hand made in Japan to the highest standards. NJS frames can not use ahead style stems so the quill reigns supreme.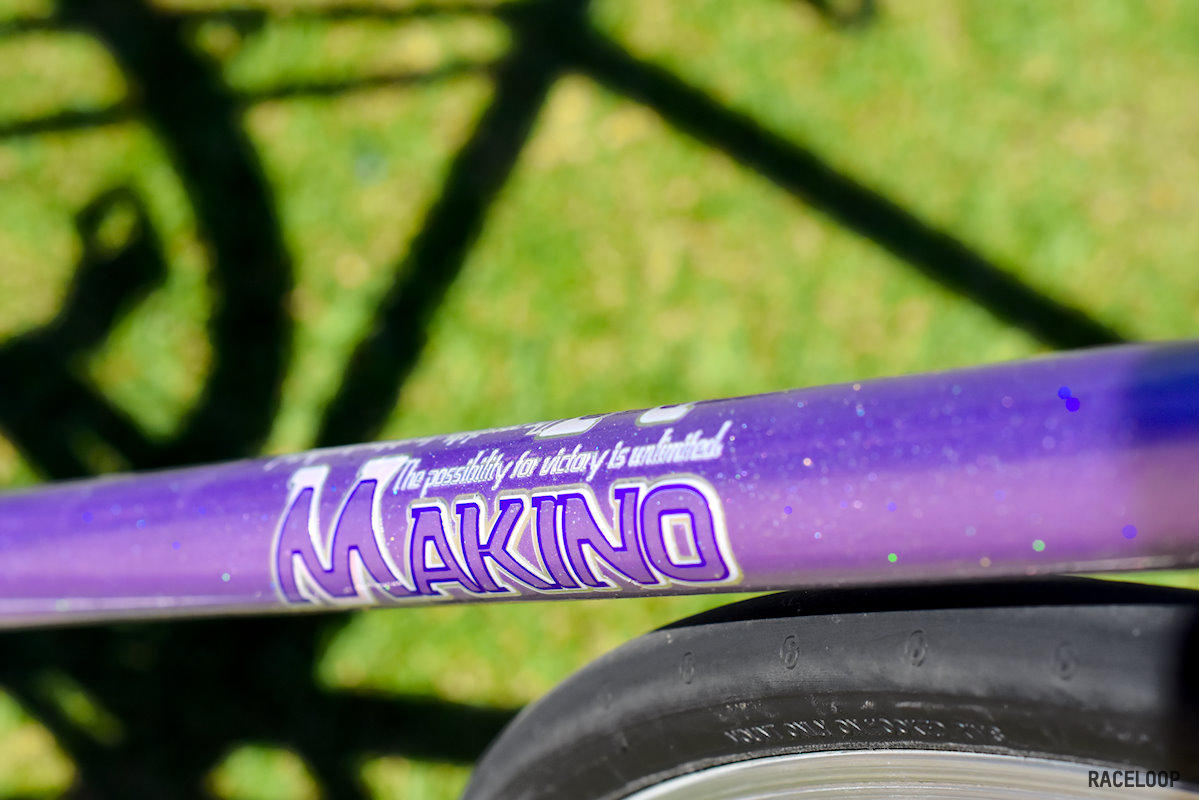 With a Makino, "the possibility for victory is endless". You've got to love the translation from Japanese to English…
For a frame to be NJS approved, it needs to meet an exacting standard so frame builders are given very little room to make their mark on a frame. As a work around many frames coming out of this world have superb frame finishes. The Makino is no exception. It has been coated with a what looks like a magical speckled purple pain. This photo shows it quite nicely and how it catches the sunlight. The detail is just superb.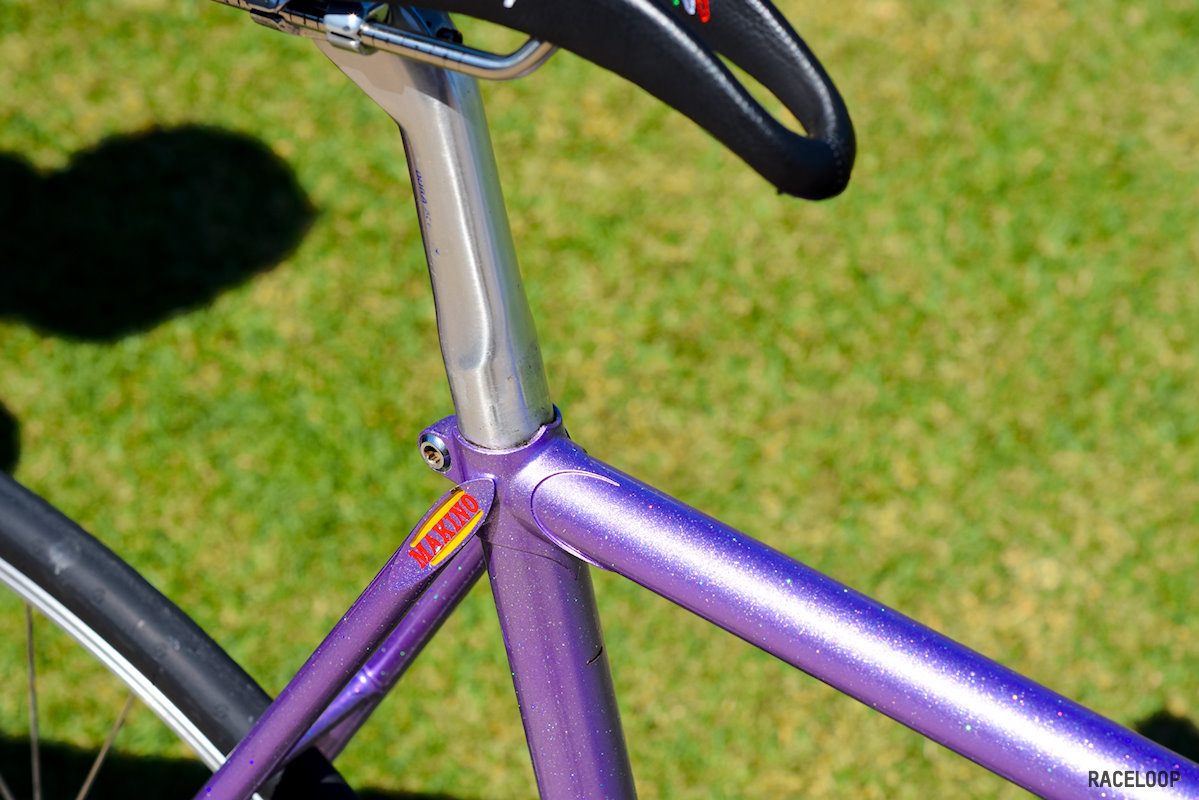 Having "Makino" cast into the seat tube lug is a nice touch. The sculptured Dura Ace aero seatpost is a rare sight yet oh so beautiful. Whether or not it offers any aero advantage is debatable but it so much more elegant than a standard round post. The weight alone probably negates any aero benefit.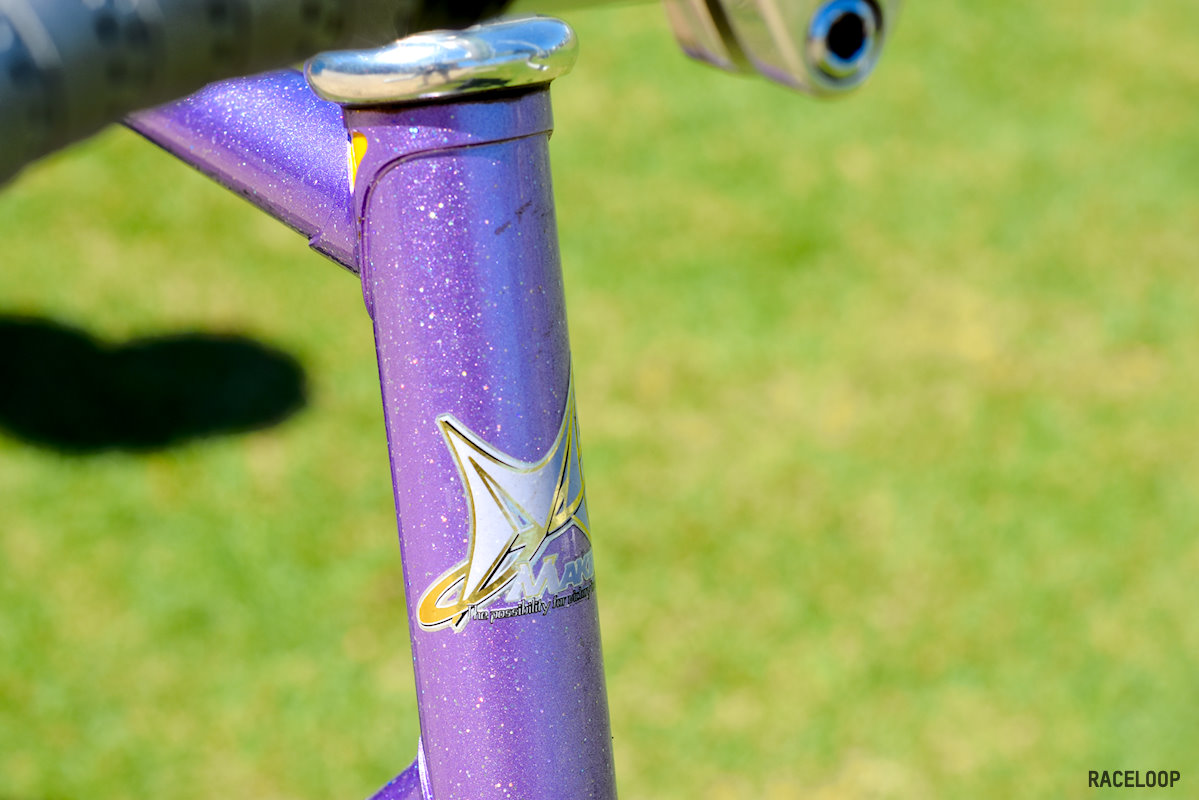 The headtube badge is a simple decal and the steerer is 1 inch. This 1 inch steerer is real classic NJS design.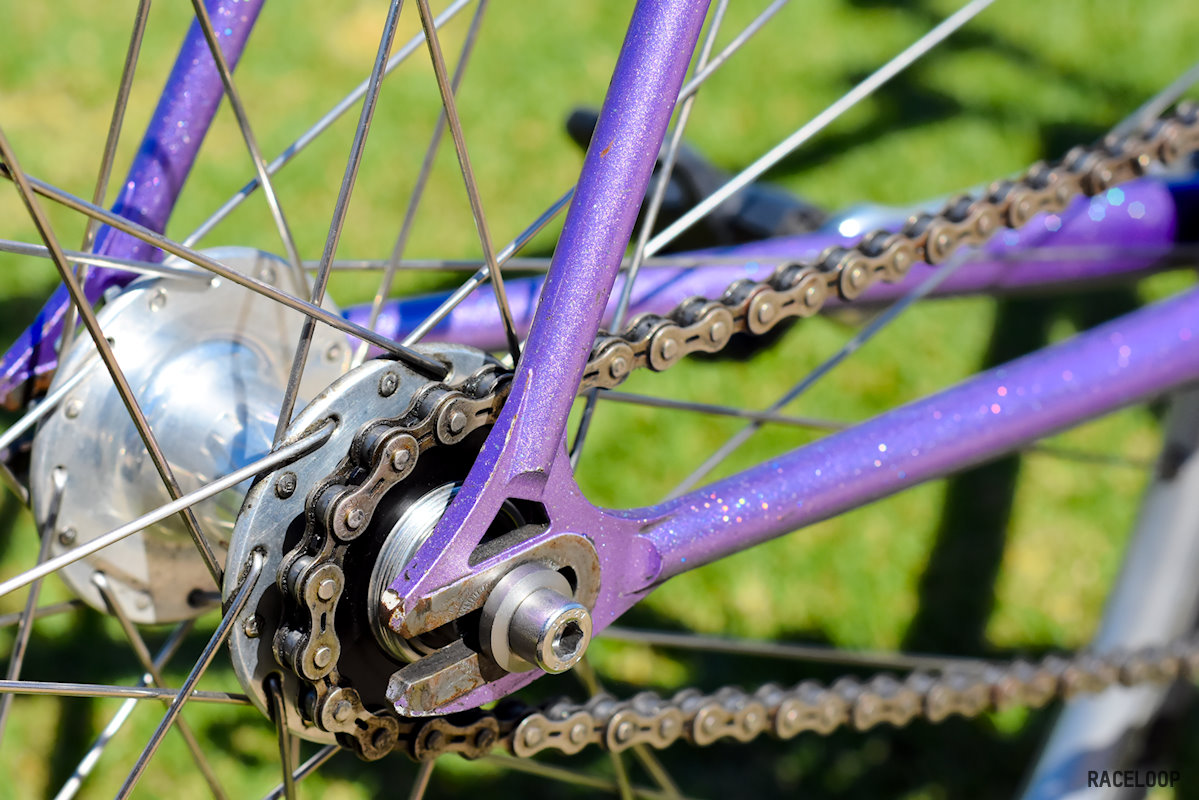 The dropouts are made from solid steel and these things will last forever. The rear hub is from Phil Wood and the cog is unplated. With high quality, precision hubs it is not recommended to use chrome plated cog as the extra thickness may damage the threading irreparably.
When building the bike, Simon tried to keep it as close to NJS approved, or at least Japanese, as possible. The exception is the wheelset. He had the Phil Wood wheels already (Laced to 32 hole Mavic Open Pro's) so didn't feel the need to buy NJS approved wheels. At least not yet…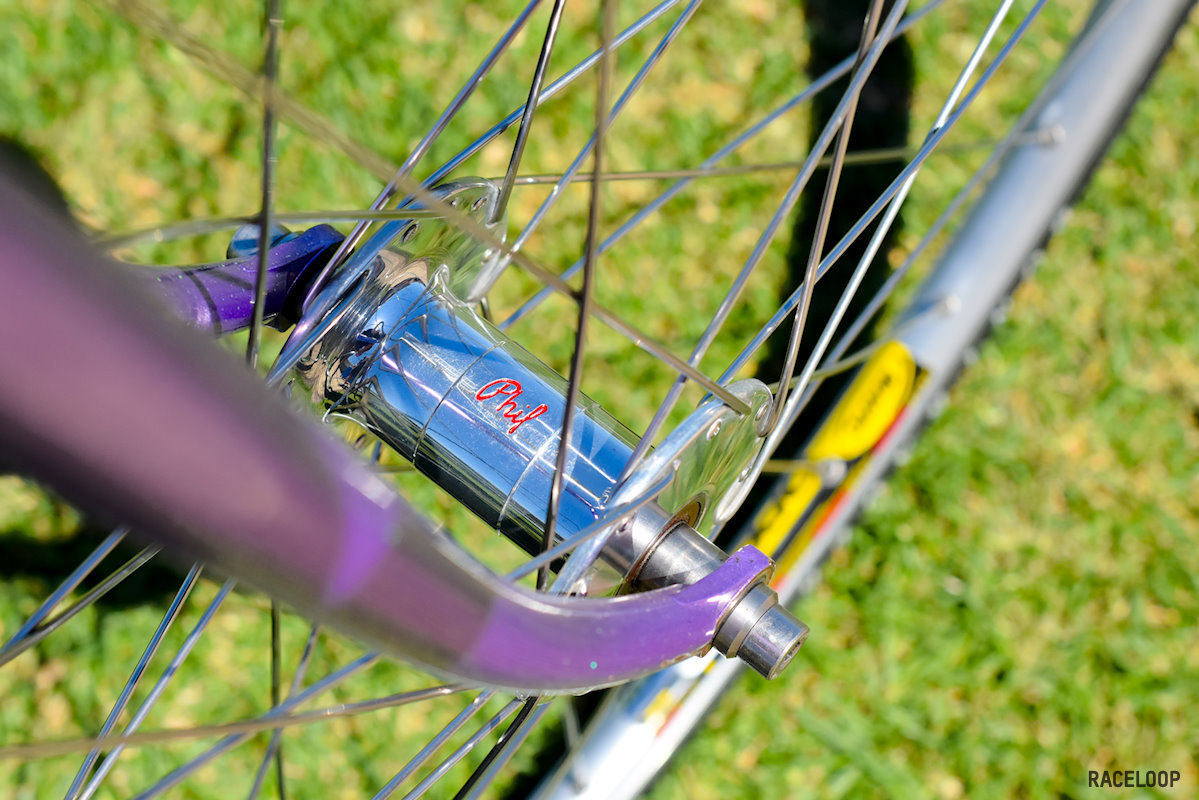 Phil Wood hubs are precision pieces of equipment designed to last. Unlike most track hubs, Phil Wood hubs use an allen key to fasten the hubs to the frame. Not everyone likes this on the rear but the hubs are pretty reliable.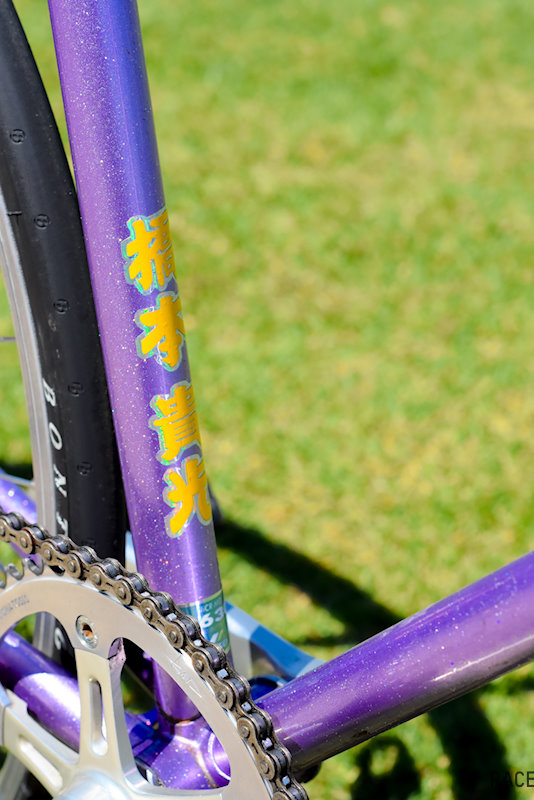 The graphics are so simple yet somehow so very different – almost space age. Notice the holographic outlines on the down tube decals?
The tubing is Kaisei 8630 Nickel Cro-Mo Quattro butted tubing. Kaisei tubing is a direct descendent of Ishiwata, a Japanese company that established a significant reputation in the market for high-end steel bicycle tubing in the 70's and 80's. When Ishiwata closed its doors in 1993, Kaisei became home to many of Ishiwata's most experienced employees and also took over its butted tube manufacturing process. It's top quality tubing and well respected in the NJS scene.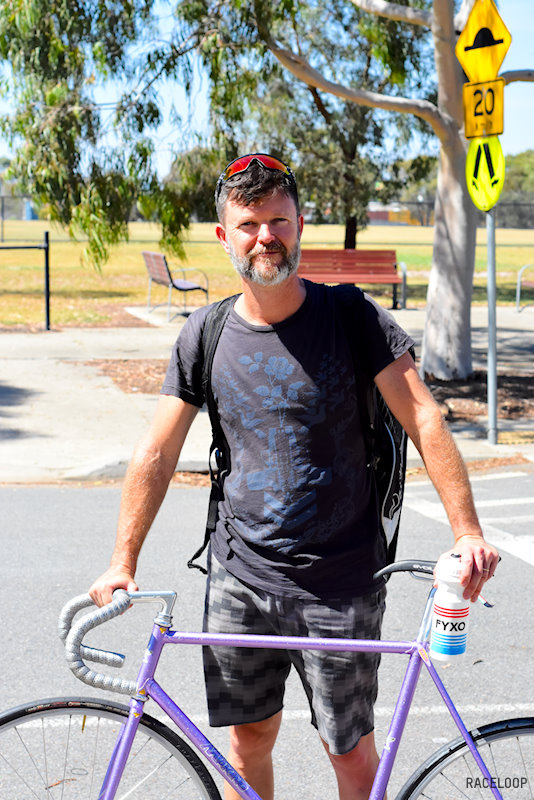 It's not a showpiece that sits in the living room. Simon built the bike to ride, race and enjoy.