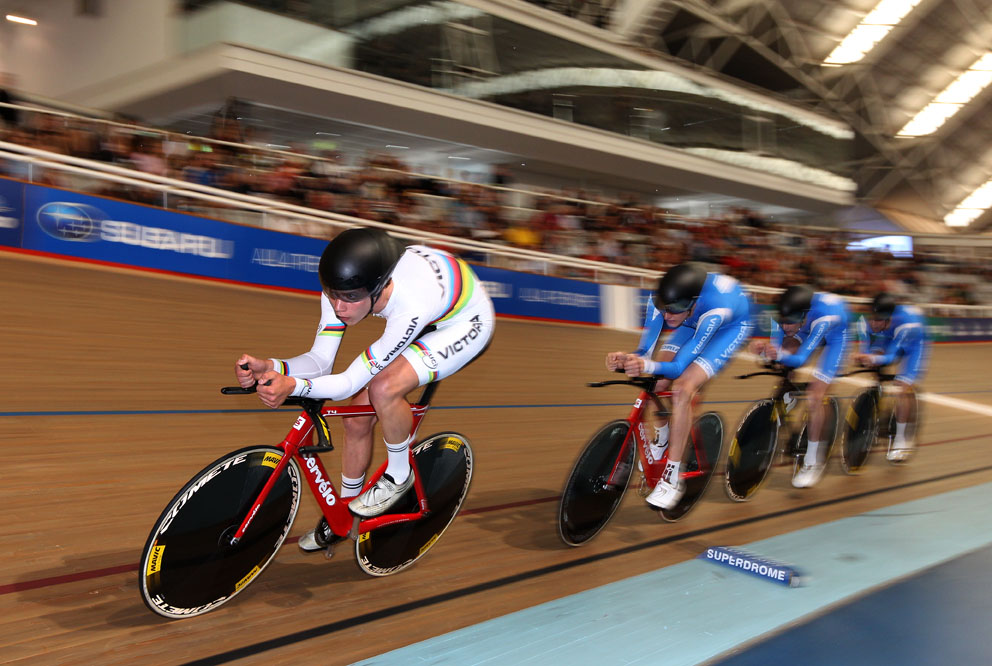 Listening to the riders talk about reigning World Junior Madison and Team Pursuit champion Kell O'Brien, you quickly realise that O'Brien is different. The respect that he has earned is apparent as they all recall stories of O'Brien on the bike. They all know O'Brien is something else.
"He knows how to push himself until he's about to crack but he doesn't care – he's going to push it anyway. Bendigo, Bundaberg. Both Madisons they were off the front just suffering. With four or five teams chasing, working together to try and bring them back…and he was holding them."
"He's amazing, there's no other word for him"
"Right up until he got that medal at the nationals you could still take him out and give him stick. Then he came back a couple of months later and we were thinking  "what happened!". He was like a different kid."
However, when talking to O'Brien it is sometimes easy to forget that he is already a two time junior world champion (2015 Team Pursuit & Madison) and one of Australia's top up & coming track cycling talents. He's humble about his achievements which is hard not to like but underneath it all is a rider who is driven to make the most of the current opportunities he's been given. Speak to him for 10 minutes and you quickly realise that this is a rider who is clearly focused on what lies ahead. Make no mistake, this young rider has the potential to carve out a solid career as a professional cyclist in the years to come.
The Beginning
Just 18, O'Brien was not a prolific winner during his years in the U17 age group. Surprisingly, his only win during this time was when he won the Junior Austral in 2013. Other than this he continually ran short of the podium. Although the Austral win was a fantastic achievement, having not ridden state selection events meant it was not enough to get "noticed". As a result his talents were overlooked and he was never offered a place on the Victorian State team – the foundation for moving up the hierarchy. From an outsider's perspective this was fair enough as he simply didn't have the results to back up selection.
Haydn Bradbury, former national champion and AIS scholarship holder under Charlie Walsh, saw him differently and recognised O'Brien's talents early on. After taking O'Brien under his wing Bradbury explained, "He had the goods. The juniors are hard to pick because many of them do so many kilometers but Kell was barely doing a 100 kilometers a week. You can't tell if someone's got talent if they're doing 300kms a week. Anyone who does this number of kilometers is going to go well. Someone who goes as well as Kell did as a top age under 17, on not a lot of training, you know they've got something special."
The Potential
It was at the 2014 Austral (seniors) which was to be O'Brien's first real showcase of his talent. As it would happen, prior to this event he had decided that this was to be his last race as he was unable to secure sponsorship for a new track bike and the equipment required to be competitive at the U19 level. Under a packed audience and against Australia's best, O'Brien navigated his way into the wheel race final. In the final, hunched over his tiny second hand alloy Avanti Track Pro, O'Brien launched in the final with one and half laps to go and hung to the end for fifth place. It was an incredible ride by the young rider. After watching his performance, I think it is fair to say that he demonstrated to everyone that he had something else. His strength and speed were incredible.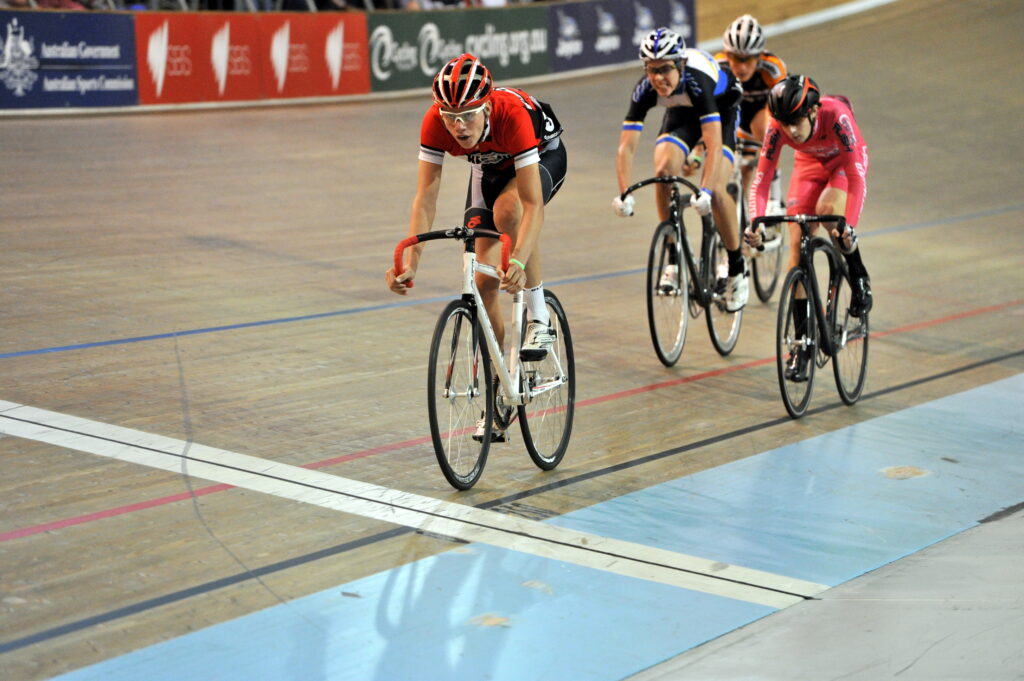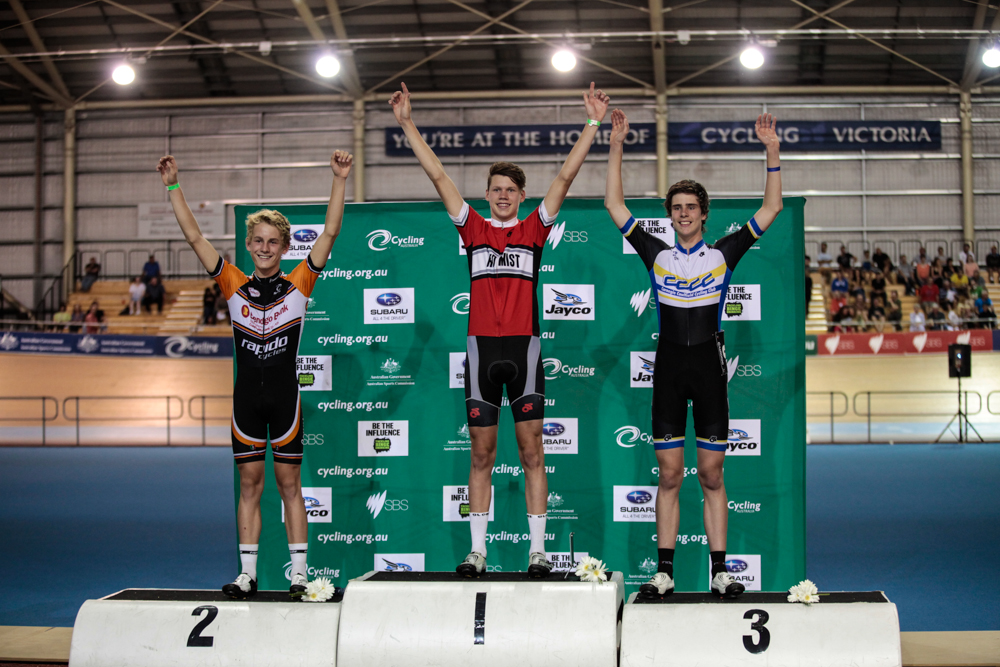 O'Brien didn't ride the state Championships so despite his progression it was not enough to see O'Brien land a spot on the Victorian U19 state team for the 2015 National Championships in Melbourne. Further, he had been brought in to the Victorian Institute of Sport for testing at the end of 2014 however the squad decided not to take him on. For whatever reason it was felt that O'Brien was not what they were looking for and to be fair, O'Brien was yet to achieve the results to reflect his talent.
However, he had one anchor holding him back. At 190cms O'Brien was still riding the bike he rode as a first year U17. Riding a frame two to three sizes too small was starting to cause him lower back pain and and he was cramping in the longer races. In the weeks leading up to the 2015 Australian National Championships, with almost no track time leading up to the event O'Brien had no idea of what he was capable of. In fact, he had almost resigned himself to not starting because it looked like he was not going to find a bike in time. He had it in his mind that with this huge disadvantage there was no point riding against Australia's best riders at their most important event of the year.
As luck would have it and with a few weeks to go, a local business, Bayswater Jayco, generously offered to sponsor O'Brien with a new Cervelo T4. This seemed like the break O'Brien needed however there was a problem. Although generous, the offer was late in the piece and he still didn't have a bike. With just a frame in hand, it didn't look like it was going to come together in time. The nationals were looking more and more unlikely. Considering the support many riders have, it could not have been a more difficult journey.
The Turning Point
Despite the lack of official state support, O'Brien's parents are hugely supportive. With only two weeks before the nationals his parents encouraged O'Brien to just have a crack and enter on the off chance the that bike would be ready in time. The event was in Melbourne, it was the first year an independent rider (non institute/non-state team) could enter the Track Nationals and he had all of the pieces of the bike coming – he just didn't have them "yet". Finally, with the help of Gary Neiwand and John Beasley at Beasley Cycles in Footscray, O'Brien was ready to go with less than a week to go.
NOTE: Cycling Australia allowed independent riders to compete at the Australian Track Cycling National Championships in 2015.
With four days to go, O'Brien was now back in business and with one chance to try the bike before the nationals. At this point, O'Brien had nothing to lose and his confidence was edging back. He didn't make the state squad, he missed out on a scholarship at the VIS and he had already decided that he was going to follow the the pathway towards the road. If he performed badly, it didn't really matter. If he did well, fantastic! Either way, O'Brien hadn't even allowed himself to imagine a future on the track, as he had not been channeled towards to high performance pathway, which makes it difficult for an Aussie to make a cycling career in track cycling.
Although he had only one ride to try the new bike, O'Brien's frame of mind was now at the polar opposite end of where he was just a week earlier. The 3km Individual Pursuit was his target. Incredibly, in the qualifier he set the fourth fastest time (3:22.573). Although he was 6 seconds off South Australia's Rohan Wight (3:16.566), O'Brien was the fastest Victorian by almost a full two seconds. It was a massive boost to his confidence with no state team support. With O'Brien's father John calling the pacing splits from the sideline even O'Brien admits that they had little idea of what they were doing or what he could do.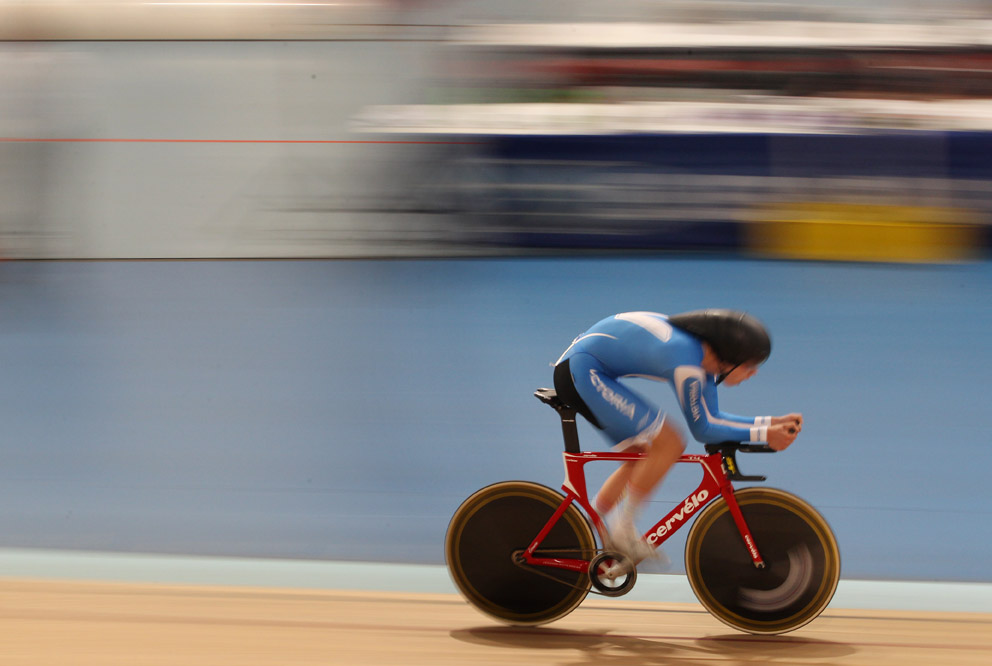 Now in the final for the Bronze medal, the heat was on and O'Brien was now nervous. However he also had his confidence. The call went out from his club – Melbourne's St Kilda Cycling Club – for all members to come down to the track that night to cheer him on. The atmosphere was incredible as you could feel the crow willing him to succeed. In the final he didn't just ride for third, he went all out to catch West Australian Alex Rendell at a pace that could have arguably been good enough for the gold. It was simply a ride no-one could believe. From a second tier rider to a contender in one day. The turnaround was stunning.
Who is Kell O'Brien? How was he missed? Why was he not on the radar? The questions were asked and heated discussions were had. Simply put, he had started late in the piece as an U17 rider so he hadn't been around as long as some of the other riders in his age group. He just hadn't racked up the results required for selection. He had plenty of fourths and fifths but very few wins. O'Brien's home state of Victoria has a solid pool of talent and up until that point it is fair to say the team selection was correct.
O'Brien was now a National Championship medalist and a member of the 2015 Australian National Junior Track Team headed for Astana. In the months leading up to the World Championships O'Brien's progress accelerated and his confidence grew as he was receiving the training support he had been without. Again, Bradbury explained "He didn't actually start training properly until he knew he got onto the Junior Worlds squad. Before that I just don't think he really believed in himself. And even when he got there, I don't think he fully thought he deserved to be there. He wouldn't have been there if he didn't deserve it. He was one of the strongest even as a bottom age. He's as good as everyone says he is….he's probably better. He could go all the way."
The Future
O'Brien's respect goes further than Victorian track scene. Tim Decker, Australia's Track Endurance Coach adds, "Kell is showing a lot of promise so far in his short career and has the potential to be an exciting prospect for the future – especially on the track. I'm looking forward to watching him enjoy the Junior World championships and then seeing if we can progress him into High performance Elite program." Nothing is guaranteed but it's clear that O'Brien's hard work is being recognised.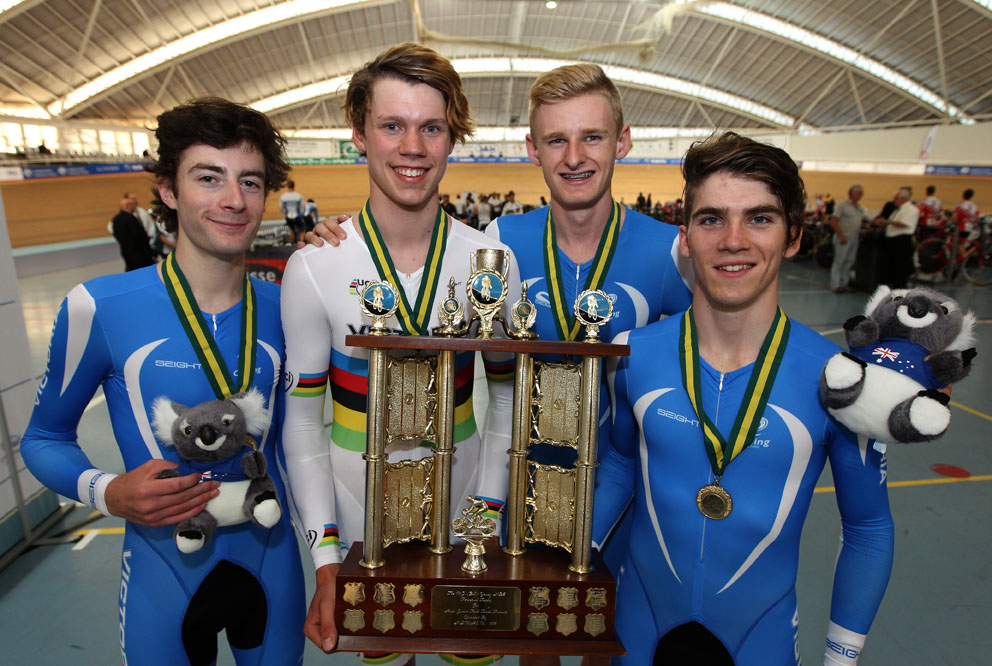 Since winning his two World titles, O'Brien has gone from strength to strength and his progress has shown no sign of slowing. National U19 Omnium Champion, Champion of Champions at the 2016 Australian Track Cycling National Championships, third (with Mat Ross) at the Australian Elite Madison Championships, personal best times, the list goes on. As the most dominant Under 19 rider over the 2016 Australian track season, O'Brien is now firmly focused on what lies ahead. Although this year's Junior Worlds in Aigle, Switzerland are his immediate focus he knows that ultimately this is just a stepping stone if he wants to go all the way. As one coach commented, "He's special, really special".